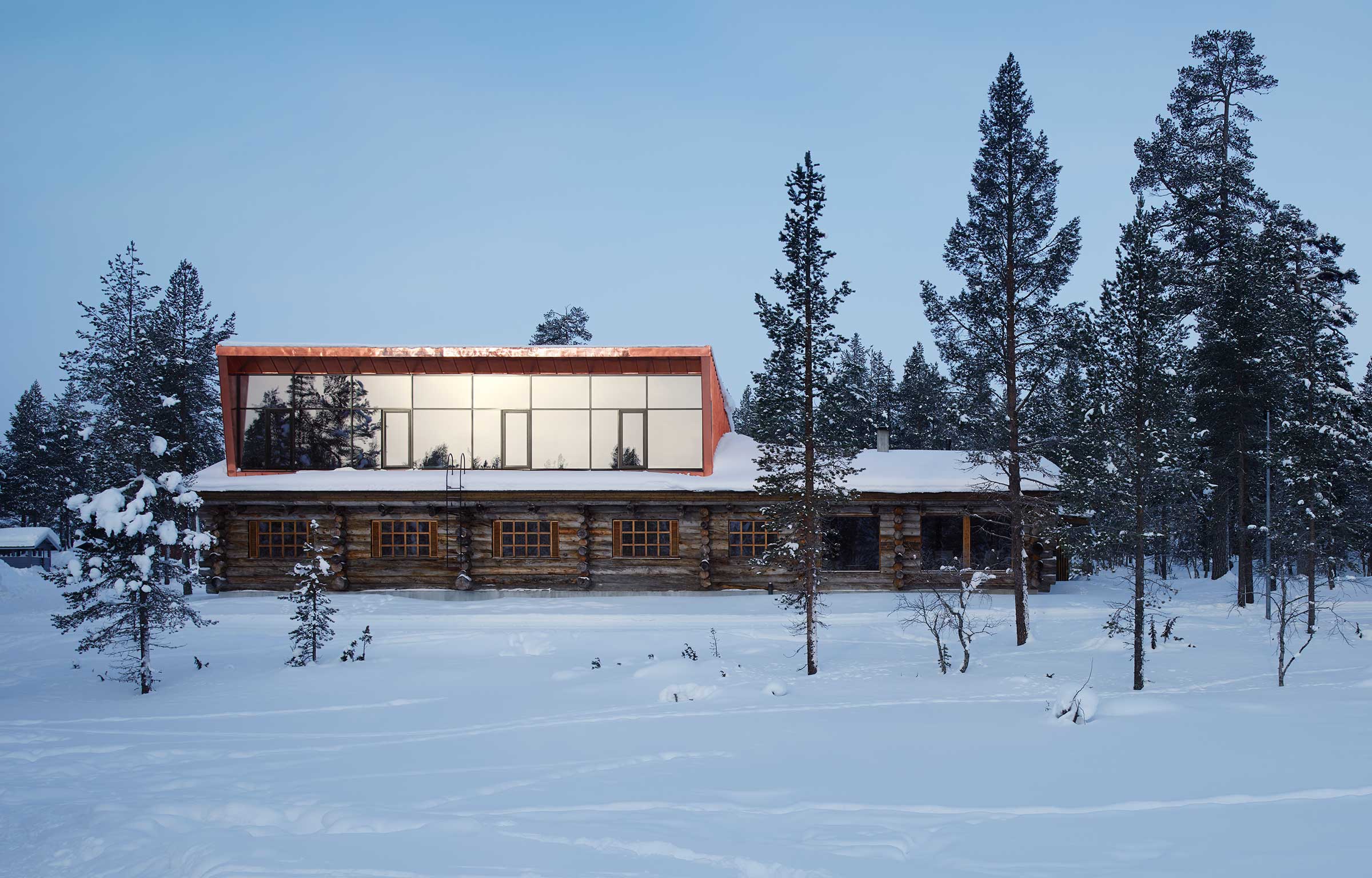 Javri Lodge – a Lavish, Lappish Nature Retreat 
Located in Saariselkä, 260 km north of the Arctic Circle in Finnish Lapland, Javri Lodge claims to be the northernmost hotel in the world. It's a wooden chalet style boutique hotel which attracts visitors who are seeking an escape from a hectic life, often craving an opportunity to experience an intimate connection with nature – while simultaneously staying in a hotel which reflects their ecological and sustainable values.
A unique hotel philosophy
Locals Juha and Katja Mehtajarvi opened up Javri Lodge for business almost three years ago. It once served as a retreat for former Finnish president, Urho Kekkonen (1956-82) who was a strong promoter of the area. Since the Mehtajarvi couple took over the place in 2016, they had a strong vision of taking sustainable design to new levels. Katja and Juha explain:
"Since we took over the hotel three years ago, it has become clear that respect for nature, guests' appreciation of purity and other general ecological and ethical values are the most important aspects of our hotel philosophy. So those were the most important values when we started to develop the building", say the Mehtajarvi couple. Katja continues: "Part of our sustainability efforts was to choose sustainable materials of the old log house. Our starting point was that we had this 50-year-old house that got about double the size with a modern building part. And that's when Bolon came in to the picture"
Their choice fell on Bolon's flooring due to the sustainability aspects of the flooring, especially its durability and the fact that Bolon's products consist of 33 % recycled material. A choice that was tricky to make, yet one that proved to be the right one.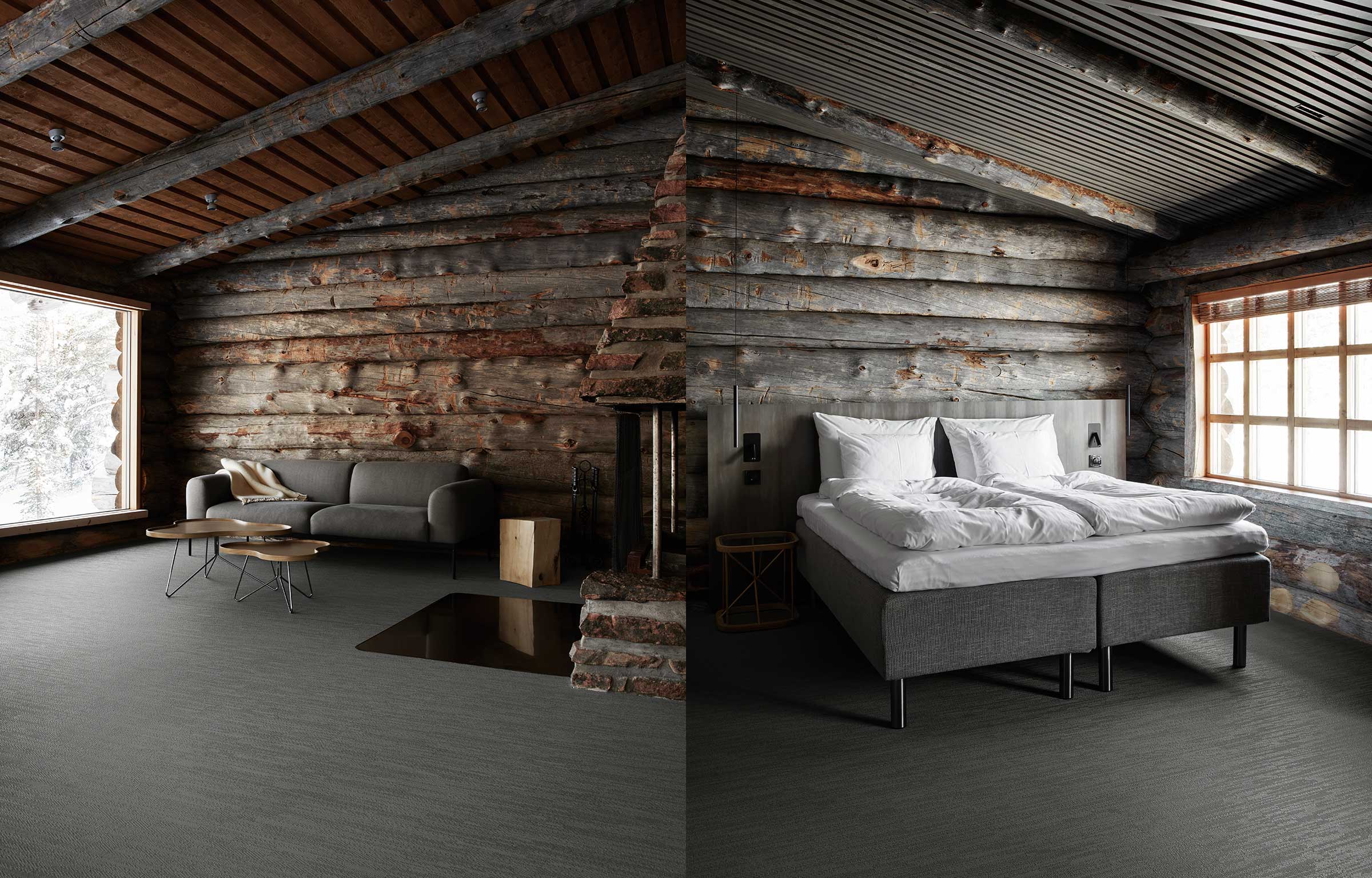 "Maybe that's still a bit challenging for us, to choose the right materials. But Bolon proved us right. We can see that the element that has raised the most interest among our visitors, in the interior design, is by far the flooring. That has opened our eyes – it was the right choice after all. Bolon for us is a modern kind of sustainability", says the couple.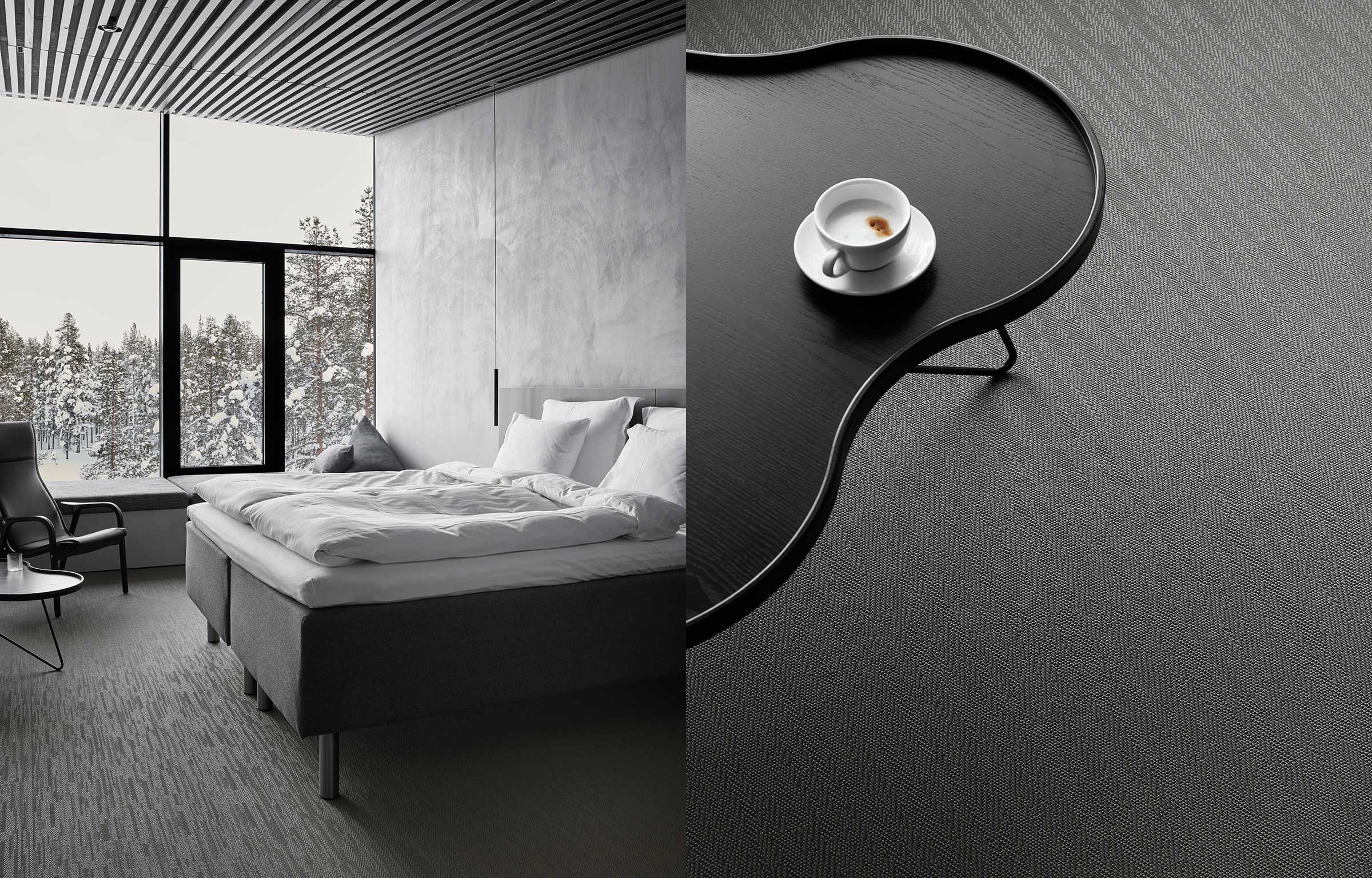 The most important aspect in the choice of flooring was not to choose a design element that would be a competitor to the walls but rather highlight the wooden feeling of the lodge. 
"We wanted those kinds of old-style elements in the wooden building. The flooring we fell for (BKB and Now) is very much like these old-style linen cloths, used in saunas as a seat cover in Finnish "laudeliina". The pattern is exactly like that… The kind we used in the 60's and 70's – which happens to be the same time those log-walls were built", says Juha.
Homelike feeling without distractions
Apart from sustainable values, a nature-inspired look, and a close connection to nature, the Mehtajarvi owners strongly encourage guests to communicate with each other instead of talking to others via their digital technologies. Cellphones are banned in common areas and only allowed in the hotel rooms, where the owners deliberately chose to not place a TV.  
So that guests would truly experience the peace and calm of Lapland, free of distractions. 
"Most people come here for the nature, and to experience the purity of it. They often come here for 5 nights only, which is a short period of time if you're looking at taking a break from a hectic life. Then it is certainly very important to minimize possible distractions in different ways" the owners of Javri Lodge
Javri Lodge – the future of the hotel industry?
After more than half a century with huge growth in the travel and tourism industry, a hotel experience has become more than just a hotel. Fatigued by the impersonal experience of hotel chains, it seems like people increasingly seek to take away or learn something unique from their stay or experience. 
Just like they do at Javri Lodge.